Important Notice to All Taxpayers
The phone number for the Portage Borough School Tax Collector, Dave Layo, is incorrect on your tax bill. To reach Mr. Layo, please call 814-243-8610 if you need to make an appointment or have questions about your tax bill. Thank you.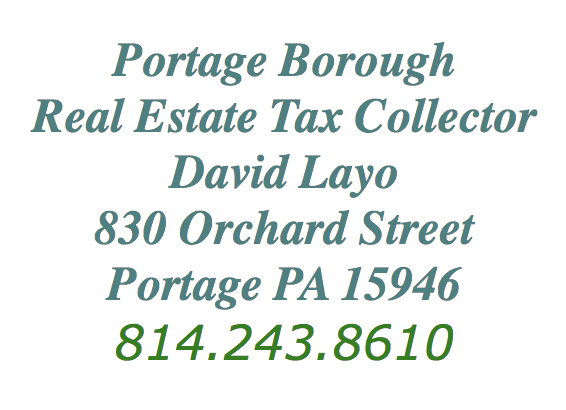 Emergency Broadband Benefit
On May 12, 2021, the U.S. Department of Education released information for school districts regarding the EBB. The EBB is a new, temporary Federal program to help eligible families pay for internet service during the pandemic. Households with a child who was approved to receive free or reduced-price meals under the National School Lunch Program (NSLP) or the School Breakfast Program (SBP) during the 2019-2020 or 2020-2021 school year, including children who attend schools participating in the Community Eligibility Provision, are eligible for the EBB Program. It appears ALL households of Portage Area students are eligible for this program. The Department of Education's EBB website has further information and the application which can be found by clicking HERE.
Comcast has updated their system and applications are now being processed. If you had issues applying for the EBB program through Comcast, please try again or call 1-855-846-8376 for assistance.

Parental Option of Retention
The PA General Assembly has passed legislation (Act 66) that will allow parents and students new options concerning the upcoming 2021-2022 school term. Parents of students with disabilities who attained age 21 during the 2020-2021 school term or who will attain age 21 during this summer can elect an additional year of education during 2021-2022. Parents of all students, and students themselves if they are 18, can elect retention during the 2021-2022 school term at the grade level they were in during the 2020-2021 school term. Forms for making either of these elections are available on the website of the Pennsylvania Department of Education.
Forms must be downloaded, completed, and submitted to Mr. Eric A Zelanko, Superintendent, at supt@mustangmail.org by 4:00 P.M. on July 15, 2021. Typically, the decision to retain a student is one that is made by the building principal utilizing input from the parents and, obviously, the child's teachers. Moreover, when this process occurs at the Portage Area School District, the decision involves careful analysis of the students' academic performance as well as weighing the students' emotional maturity. Parents considering this option are strongly encouraged to consult your child's building principal or superintendent before making this consequential decision. Ample educational research exists that points to the strong correlation to poor outcomes for students retained beyond the very early elementary years. Therefore, it is imperative that the decision not be made lightly. If you have any questions, please contact your child's principal.
Sincerely,
Eric A Zelanko
Superintendent of Schools
Portage Area School District
PASD Commencement Ceremony
2021 Commencement Ceremony
PASD Media Day for seniors